Short Introduction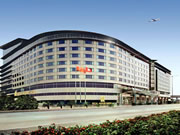 The last thing any traveller feels like doing upon arrival at their ultimate destination is to spend another hour or more trying to locate their accommodation. In inclement weather (whether it is snowing or is so humid you can't breathe), after a long haul flight, perhaps in a country where English is not the primary language, finding your hotel quickly and calmly can be tricky to say the least! Fortunately there is an easy solution to this problem, and it's an option that many travellers are now turning to - staying instead at an airport hotel which is located either inside the airport complex or within a few kilometres of the terminal. Airport hotels are remarkably convenient as they eliminate all that extra hassle: you don't have to worry about locating your hotel, lugging your heavy suitcases for long distances, or missing your connecting flight (if you are still in transit). In fact, airport hotels let you get on with enjoying your holiday, instead of prolonging the misery of a long period in transit for a few hours longer!
For
travellers
experiencing delays, a
missed connection
, a
cancellation
or simply a
long transit period
,
airport hotels
can be a life saver. They provide a quiet, comfortable and private place to rest your head for a few hours or even a few days. Next time you find yourself stuck at an
airport
with several hours to spare, why not consider
booking a hotel
room nearby - you'll be amazed at what a difference it makes to your travel experience.