FAQs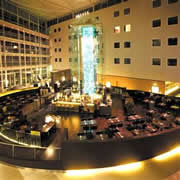 Although airport hotels are rapidly becoming more popular, many people still avoid the accommodation type because they misunderstand the set-up. In fact these misconceptions are completely unnecessary, as the following answers to frequently asked questions will show.
Are airport hotels noisy (from overhead aircraft)?
Not at all. In fact, because
hotels
based at or near
airports
are conscious of
aircraft nois
e, they use super insulation, sound proofing and even triple glazing to ensure that their guests can have relax in comfort. It has been suggested that
airport hotels
are often less disturbed by outside noise than other
hotels
, simply because their design has been so concerned with noise reduction.
What sort of quality are airport hotels? How modern are they?
Many people assume that
airport hotels
are poorly maintained because their guests are only using the
hotel
for transit (a few hours or a night only) and are therefore less inclined to enjoy a
top class hotel
. This simply isn't the case. Many
airport-based hotels
are first class. In
airports
that are new or recently renovated, it is safe to assume that the
hotels
within or nearby will also be new. Moreover, most hotel chains have a policy of updating their
hotels décor
and services regularly regardless of their location.
Are airport hotels only for the use of transit or long-haul passengers?
Another common misconception is that
hotels
close to
airports
or indeed within
airports
are only used by passengers awaiting a connecting flight. Although a large percentage of their patrons are indeed passengers in transit, there is no reason other
holiday-makers
cannot use the facilities as well. In fact some
airport hotels
are ideally located for sight-seeing and are usually well linked to
public transport
, so it can make sense to choose it as your
accommodation
.