What are Airport Hotels?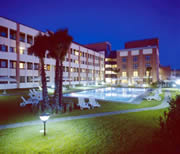 Known for their convenience, their proximity to the airport terminal, and the sheer relief they offer exhausted long haul passengers, airport hotels are actually much more than a place to rest your travel-weary head. In fact many hotels based at (or even inside) airports are incredibly modern, filled with cutting edge technology and entertainment, and set up to cater to business travellers, holiday makers, families and passengers in transit. Unlike your average hotel, which has strict rules about room reservation (some hotels require you to stay a whole night, others will only take bookings for two or more nights), airport hotels tend to be much more flexible. They understand that many of their patrons are in transit and may only need to use their rooms and hotel facilities for a few hours. Most will not insist on charging you for a full night, but will offer reasonable hourly or half-day rates to suit your needs.
The general premise behind an
airport hotel
is that they are located as close to the
airport
as possible.
International airports
tend to have one or more
hotels
nearby simply because there is more demand for
accommodation
. Smaller airports may have one
nearby hotel
, or may have a designated
hotel
further away for the use of passengers in the event of a flight delay or cancellation. Although most
airport hotels
tend to belong to established
hotel chains
, there are certainly some
independent hotels
located nearby the
larger airports
like
London Heathrow
.