Famous International Airport Hotels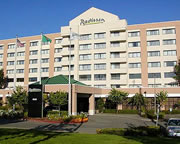 Internationally airport hotels have become something of a tourist attraction themselves! Some hotels are actually located inside the airport terminal, whilst others are situated between airport buildings. These hotels are often lavishly decorated (such as with the Dubai International Hotel at the Dubai International Airport) and place an emphasis on customer care.
In the United States there are a number of airport hotels that are recognized for being of a superior quality. The Hyatt Regency Orlando International and the Miami International Airport Hotel are both situated within their respective airport complexes. The Hyatt Regency Orlando is inside the terminal, with several levels. It faces into the terminal rather like a department store in a shopping centre, and has recently been awarded a Gold Key Award. Miami International Hotel is also located within its namesake's terminal, and offers travellers a pool, gym and hotel restaurant. The Hilton Mexico City International shares these features with it's northern neighbours, also being located inside its respective airport terminal.
Across the
Atlantic Ocean
the story is no different - several
European airports
have
hotels
located inside their complexes as well.
Paris Charles de Gaulle
, for instance, has a
Sheraton
(
Sheraton Paris Airport Hotel
) on it's compound, though not inside the terminal itself. It is instead positioned near
Terminal 2C
,
2D
and
2E
in a stand alone building. In
Munich
the story is similar - the
Kempinski Hotel Airport Munich
is located inside the
airport grounds
between the first and second terminals.